Once, a student asked me about the real risk of acupuncture in pneumothorax.  Pneumothorax is the presence of air in the pleural cavity. This air can arise due to illness or physical trauma – like the prick of a needle. It is a medical emergency.
Her question had come from a doctor who had told her that probably the risk was virtually zero because acupuncture needle were very thin and from acupuncture classes where specific puncture techniques were advised in the chest to avoid the appearance of such medical complications.
Unfortunately it is a very real risk and there are documented cases, as a little search on Google scholar can evidence. Fortunately it is extremely rare. Despite frequent minor side effects in acupuncture treatments, such as pain or bleeding, serious side effects are very rare.

As I said, the cases of pneumothorax induced by acupuncture are rare. Saifeldeen and Evans concluded that should happen about 2 cases of pneumothorax per 250 000 treatments[i]. The authors also estimated that one case of pneumothorax arose per 41 years of full time practice.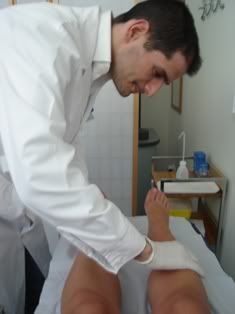 Other reports have appeared in the brittish Medical Journal. Stack[ii] reported case of a 52 years old patient who developed pneumothorax while doing an acupuncture treatment for shoulder pain (frozen shoulder).
In 2005, the Journal of Orthopaedic Surgery[iii], Lee, Leung and Wong reported a case of pneumothorax induced by acupuncture. In this case, 36 years old a Chinese women with a long medical history of back pain turned to acupuncture sessions. After the needles have been withdrawn, from the back region, the patient experienced severe back pain, especially when inspired and expired.
Ryan Chauffe and Ann Duskin[iv], both from Nova Southeastern University College of Osteopathic Medicine, reported the case of a patient, medical student, 27 years old searching for acupuncture to treat muscle spasms of the right elevator of the scapula and eventually develop a whole symptoms of pneumothorax (acute dyspnea, chest pain, nonproductive cough) after consultation with an acupuncturist. This report published in 2006 also reported the results of a review article that alleged the existence of nine cases of penumotorax induced by acupuncture since 1985.
Another review study was conducted at the Institute of Community Medicine, University of Tromsø, Norway, by Mary Anne Liebert[v]. This study drew on a database that encompassed the years 1981-1994. Using the keyword acupuncture adverse effects she encountered a total of 125 articles. Excluding those who did not report clinical cases she could conduct the study based on 78 articles. In these studies it was found various side effects including pneumothorax, that became fatal in one case.
As the statistics show the cases of serious side effects resulting from acupuncture treatments are rare and their occurrence can be mitigated against a number of factors among which are: (1) formation in anatomy, (2) good aseptic and hygienic conditions during procedures and (3) good theoretical and practical training in acupuncture.
The rarity of these phenomena coupled with good professional training makes that acupuncture is a safe treatment for the patient. The acupuncturist should follow best practices such as aseptic principles and being possessed of a good technical background. Even with minimal risk there is always the possibility of any side effects. In the case of pneumothorax, the acupuncturist may recognize some symptoms that appear within a short time as acute dyspnea, severe chest pain usually associated with respiratory movements.
In the presence of these symptoms after acupuncture treatment, the acupuncturist (or the patient if has already left the consultation) should refer to medical services immediately.
FINAL NOTES
---
[i]
http://www.ncbi.nlm.nih.gov/pmc/articles/PMC1726355/pdf/v021p00398.pdf
[ii] http://www.bmj.com/cgi/pdf_extract/1/5949/96-a
[iii] http://www.josonline.org/pdf/v13i3p300.pdf
[iv]http://journals.lww.com/smajournalonline/Fulltext/2006/11000/Pneumothorax_Secondary_to_Acupuncture_Therapy_.30.aspx
[v] http://www.liebertonline.com/doi/abs/10.1089/acm.1996.2.291